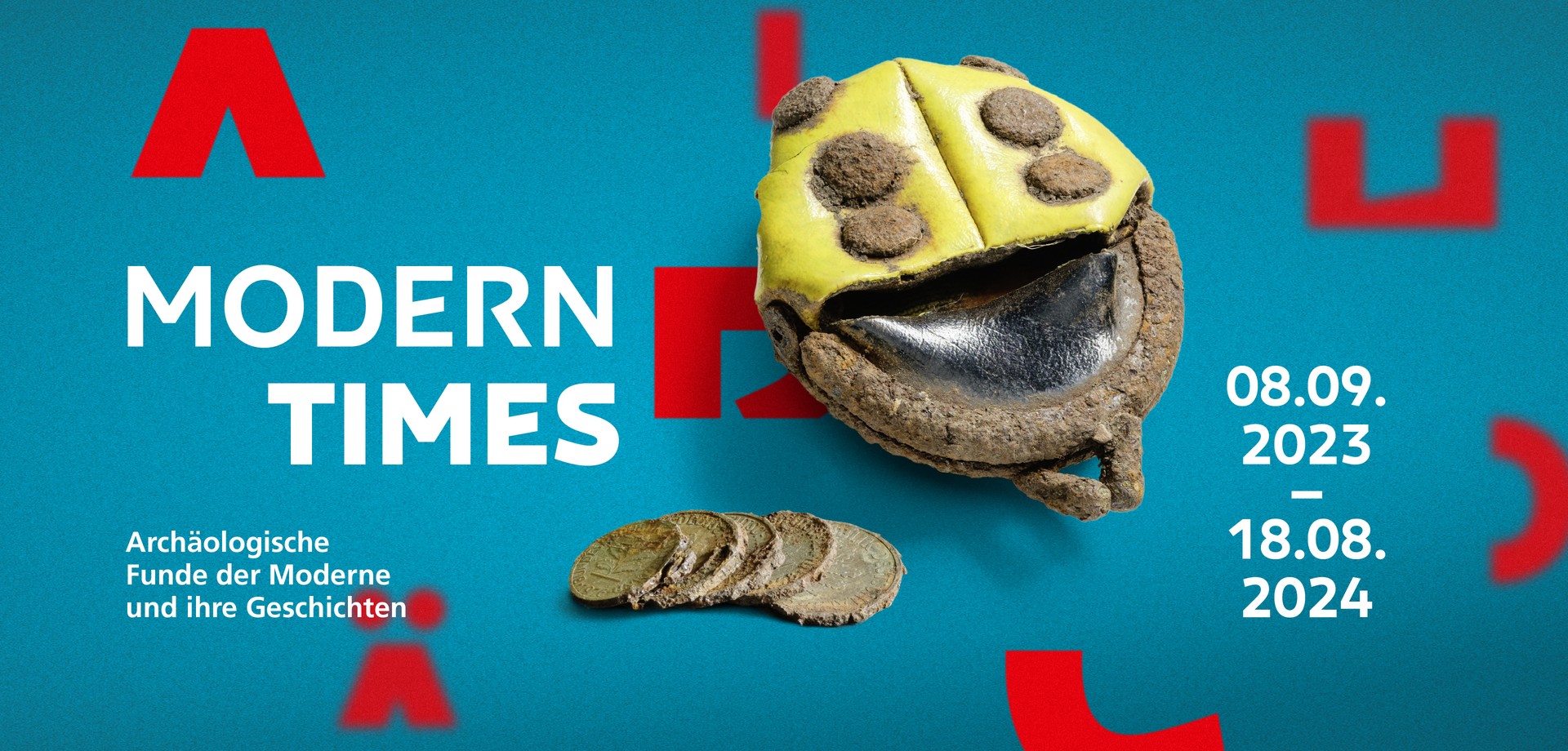 Modern Times - Archaeological finds of the modern age and their stories
From September 2023 to August 2024 we are presenting the special exhibition "Modern Times - Archaeological finds of the modern age and their stories" and are concentrating on this youngest field of archeology. Sensational finds from LWL archeology in Westphalia from the 19th and 20th centuries will be shown for the first time and compared to objects from Finland, France and the USA. The special exhibition also provides an overview of the methods and challenges that modern archeology poses to planning and excavations, to the evaluation of findings and their archiving.
The time frame of the special exhibition ranges from the beginning of industrialization to the turn of the millennium. Everyday life in Westphalia at the time of the two world wars will play a part, as will mining and steel production and life at festivals such as Woodstock.
The focus of the exhibition is the relationship between humans and their objects, i.e. those things that man has produced himself. About 100 stories are told, for each of which an object is used as an example, which is characterized by its unique relationship to people. In addition, individual thematic complexes are presented in more detail using a number of exhibits.
Funded by the Zero program - climate-neutral art and culture projects of the Federal Cultural Foundation and the Federal Government Commissioner for Culture and Media as well as the LWL Cultural Foundation.
What can visitors expect on 800 square meters exhibtion space?
Archeology deals fundamentally with the things that man has produced. With its tangible approach, it also helps to understand modernity, i.e. the past 200 years. To this end, it examines, among other things, the actions of humans in relation to their objects.
In our exhibition, we use six categories to explore the relationships between modern man and his things. What objects do people create for what purpose and what additional functions do they fulfill? When do they serve as a reminder, when are they an expression of feelings? How do things encourage innovation and when are they agents for destruction? Are they just helpers or do they make us special? Follow the strands of Innovation, Destruction, Feeling, Purpose, Extraordinary, and Memory! Discover the exhibited objects and their stories. Learn about the many facets of modern society in the 19th and 20th centuries.
Innovation
The modern times are innovation-friendly beyond all measure. Higher, faster, further is the inner drive of industrial society. Take mobility, for example: in the last 200 years, humanity invented the bicycle, the steamboat, the train, the car, the airplane and the rocket, and with them globalization. The latter led to the relocation of large branches of industry from the West to other regions of the world.
Many classic industrial centers are developing into creative and knowledge locations. New universities, cultural and leisure facilities and new hobbies are emerging. With the digital revolution, computer and gaming technology, and now artificial intelligence, are becoming the 'new thing'.
Destruction
Humans move a maximum of 500 kg with muscle power. But they develop really destructive power through their inventions. The weapons of modernity are a vivid example of humanities potential for destruction. The wars of modernity claimed unimaginable numbers of lives and triggered mental suffering for generations. A different kind of threat is the industrial manufacture of objects. The price for the enormous consumption of resources is the destruction of the environment and the rapid change in climate.
Extraordinary
The old workbench in the loft, the kidney-shaped table in the Gründerzeit apartment: things that were common yesterday make us something special today. Up until after 1970, on the other hand, the exceptional was still strange and reserved for certain groups such as the avant-garde. The majority caters to general tastes, so things are mass-produced.
For archaeology, some modern things are very special: they are particularly rare, particularly fascinating or particularly well preserved. Discover stories about things that are not only extraordinary from an archaeological point of view.
Emotion
The cool sneakers, the new smartphone, the beautiful blouse: most people probably know the feeling of joy when they finally hold a longed-for object in their hands. In the modern age, we often desire objects not because of their function, but because of their status and prestige value.
Advertising often promises us that things can even make us happy. And yet we are mostly not even aware of our feelings about objects. As a rule, however, we use objects as representatives to express feelings towards other people or even divine beings.
Purpose
Things have a function. And yet they don't just serve one purpose. They can also trigger feelings or be worshiped religiously. How we deal with them is decisive for their function. In modern times, we have at least one object available for every purpose. Archeology also shows that it is difficult for us to get rid of these masses of objects. Because millions of thingsalready lie in the ground.
But what were all these things for? In archaeology, we reconstruct the original purpose of an object based on the context in which it was found, such as in a tomb. So it is always a snapshot, as is our relationship with the objects themselves.
Memory
Humans are temporally conscious and able to remember. Photos, videos, voice messages and also objects help us with this. But remembrance is not just a personal act. Societies also remember and forget. In modern times, the culture of remembrance is based on historiography with different testimonies such as writing, sound, images and even objects. This does not mean that it is value-free. Which events are remembered is a question of attitude, interest and political circumstances.
So memory is always a space that we give or take. The objects we place there are significant to our personal or social history.